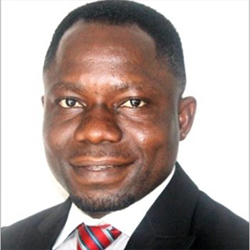 Based in Lagos, Nigeria
Background:
A senior business transformation expert with extensive industry, managerial and technical experiences working with industry leaders, CEOs, managers, team leaders and professionals to create value, sustain growth and be future-ready through the improvement of revenue, profits, customer experience, process management and reduction of operational cost built on highly motivated and collaborative workforce.
With more than two decades as business technologist and strategist, he led the design and implementation of one of the first convergent billing platform in sub-sahara African region managing multi-cultural teams across the globe. He has specializations in Innovation Management (ISO 56000 series), Project Portfolio Management, Systems Integration, Enterprise Architecture (TMF), Digital Transformation, Internet of Things (IoT), Artificial Intelligence architectures and Telecommunication's Next Generation Business & Operations Support Systems (NGBOSS) in industries/sectors such as Information Technology, Telecommunications, Consulting, Agribusiness, Finance, FMCG, Government, NPOs etc.
He served at the leadership level of many industry sectors such as the Nigeria's Second National Carrier (Globacom Limited), Technical Steering Committee (Mobile Number Portability-MNP) of Nigeria Communication commission (NCC), among others. He is currently a Managing Partner and Senior Management Consultant at Omnicore Services and the co-convener of the yearly Afrinnovation Summit, a platform for the empowerment of professionals and businesses to unleash their full potential through the development of innovation capabilities, culture, leadership and strategy. The yearly Afrinnovation Summit congregates Afrinnovators and industry leaders from 54 African member countries and around the world.
Femi-Stevens holds numerous qualifications from Massachusetts Institute of Technology (MIT), Computer Science & Artificial Intelligence Laboratory (CSAIL), USA; Yale University, School of Management, USA; Duke University, USA; Copenhagen Business School, Denmark; University of Benin, Nigeria; and as IMBB™  Licensed Practitioner (Innovation Management System – ISO Standard 56000 and CEN/TC 389), Innovation360 AB, Sweden.
Area of expertise:
Strategy and Innovation Management
Service Delivery and Business Developments
Project Portfolio and Change Management
Technology Management and Enterprise Architecture
Performance and Suppliers Management
Education:
Massachusetts Institute of Technology, Computer Science and Artificial Intelligence Lab, Massachusetts Ave, United States – Internet of Things: Roadmap to a Connected World
Yale University, School of Management, New Haven, CT 06520, United States – Certificate in The Global Financial Crisis
Duke University, Durham, North Carolina, USA  – Innovation and Design for Global Grand Challenges
University System of Georgia, Atlanta, Georgia, United States – Certificate in Cybersecurity and Internet of Things
Copenhagen Business School, Frederiksberg, Denmark – Certificate in Strategic Management
University of Benin, Benin City, Edo State, Nigeria; 1992-1997 – Bachelor of Engineering in Electrical and Electronic Engineering (Second Class Upper)
Contact:
LinkedIn: Linkedin/oluwafemi or (http://ng.linkedin.com/in/oluwafemi)